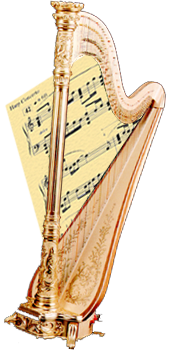 Harp Instruction
Teaching
Vancouver Academy of Music, 1987-2002
Sessional Harp Instructor, UBC since 1985
Douglas College, 2002-2003, Vancouver Community College, 1987-88
Trinity Western University, 2009 -
Fountainview Academy, Lillooet, BC - 2010-
VSO School of Music - 2011 -
International Harp Workshop, Italy, July 2012
Canadian International Summer Harp Institute, July 28-August 10, 2013
Vancouver Youth Symphony Orchestra coach
workshops and master classes for BC Harp Society and other teachers (topics: orchestral technique, injury prevention, preparing to perform)
Video master class for harp students of Gianetta Baril's at Mt. Royal College Conservatory in Calgary from UBC Telestudios, January 2007
Tour to New Zealand, March 2007: Auckland: master class, U. of Auckland for students of Rebecca Harris, workshop for Anna Dunwoodie and Lisa Williamson, teachers' forum, four private lessons in Wellington for students of Carolyn Mills
Tour to Asia, October 2008: master classes in Beijing and Shanghai
master class - McGill University, Nov. 2010 (part of OSM Standard Life Competition)
Guest clinician and instructor at Pacific Harp Institute in Seattle 2007, 2008
instructor at Island Mountain Arts Festival Celtic Harp School 2004, 2007, advanced class
Orchestra Techniques article published in Teachers' Forum of American Harp Society Journal, Summer 2002, second edition on Harp Spectrum web site, and in Nederlands Harp Bulletin, Zomer 2008 Jaargang 21 #2
Harp Column magazine - several articles published
Articles on technique published in New Zealand Harp Association Newsletter April 2007
organized and hosted master classes and concerts given by Judy Loman, Nancy Allen, Sunita Staneslow, Alys Howe, Alison Austin, Sebastien and Sayo Lipman, Susann Macdonald, Erica Goodman, Verlene Schermer, Aryeh Frankfurter, Gianetta Baril, Willy Postma, Natalia Shameyeva, Ann Yeung, Alice Giles.
Private Instruction
Elizabeth has a home studio for private instruction. Please email evolpebligh@gmail.com for more information or to book an appointment. Only students who practice regularly and come prepared for their lessons will be accepted.
Students
Former students include: Alys Howe (National Youth Orchestra, numerous awards, Hebe Kelly (Edith Lando Scholarship for Gifted Youth), Tara Burnell (Concerto Competition Intermediate VYSO), Albertina Chan (VYSO harpist, National Youth Orchestra, Senior VYSO Concerto Competition, Third Prize in American Harp Society Competition), Nadia Kim (VYSO harpist, Senior VYSO Concerto Competition, harpist for Vancouver Intercultural Orchestra), Andrew Chan (VYSO harpist, soloist in Debussy Danses with Academy Strings), Lani Krantz (National Youth Orchestra), Blanche Olivar (VYSO harpist), Esther Cannon (Silver Medal, Royal Conservatory of Music, 2006, Senior VYSO Concerto Competition, 2007, Concerto Competition winner, TWU, 2011, Noelle Kelbert (Kiwanis Fraser Valley Festival Award: $100.00 to the most promising harp student - senior or intermediate division, May 2011), Samantha Ballard, with her own youtube channel
Elizabeth helps harpists all over the world solve problems in orchestra parts via
My Philosophy of Teaching
creative thinking
musicality
problem-solving
rock-solid rhythm
understanding of harmony
intelligent and creative fingerings
correct style and phrasing
relaxed, injury-free playing
stress management, anxiety reduction
preparation for auditions and performances
Some references that I use:
Barry Green's Inner Game of Music
Dr. R. Norris's Musicians' Survival Manual
J. Lieberman's You Are Your Instrument
Eloise Ristad's A Soprano on her Head
Neumann's Baroque Ornamentation
Phil Perkins' A Logical Approach to Rhythmic Notation
Philip Johnston's The Practice Revolution
Kaplan's Practicing for Artistic Success
Dr. Carrol McLaughlin's Dr. Carrol's Power Performance
Beatrice Schroeder Rose's The Harp In The Orchestra
Bonnie Blanchard's Making Music and Enriching Lives
Daniel Coyle's The Talent Code